FAQ about DWI charges in North Carolina
It's my first DWI, what will it cost me?
Even a first time DWI can be quite expensive. Some preliminary costs of a DWI include a $100.00 civil revocation fee to re-obtain your physical license after 30 days from the date of the charged offense. If you are eligible and wish to obtain a limited driving privilege for the last 20 days of the civil revocation period, this will also cost $100.00. When charged with a DWI, it is recommended to get an alcohol assessment completed. An alcohol assessment costs about $100.00 and takes about an hour to complete. During the alcohol assessment, you will be asked a series of questions regarding drug and alcohol issues. After the assessment, you will be given recommended treatment hours to complete, if and when you are found guilty of a DWI. The alcohol and drug treatment classes usually run around $20 to $25 per hour. After these preliminary costs, upon conviction, court costs stemming from a first DWI will generally run between $600.00 to $1,000.00. Factors that affect the amount of court costs include whether you opt for community service ($250.00) or an active jail sentence ($40.00) and what sentencing range you fall into. After taking into account court costs and attorney fees, a first time DWI can be very costly, especially when considering the driving limitations associated with a DWI conviction (opportunity costs of not being able to drive to work, etc.). That being said, it is always better to be hedge on the side of caution. Cab fare is much less expensive than the cost of a DWI case.
Can I still drive to school/work?
Once convicted of a DWI, your license will be suspended for a year from the date of the conviction. If the blood alcohol concentration is a .14 or lower and there was no refusal of chemical tests, then you will be able to obtain a limited driving privilege that will allow you to drive to work and school. The limited driving privilege, however, does not allow you to drive for recreational purposes. The limited driving privilege can be obtained on the date of conviction and will last for the entire year that your license is suspended. If the blood alcohol concentration is .15 or higher, then you will be ineligible for a limited driving privilege that covers driving to work and school until 45 days after the date of conviction. On the 45th day, you can obtain a limited driving privilege only by have an ignition interlock device installed in your registered vehicle(s) for a period of 365 days. If you were charged with a refusal (refusing to submit to a chemical analysis test), the DMV will suspend your license for a year starting on the date of the refusal. Note that the refusal suspension is a separate entity from the one- year license suspension associated with a first time DWI. A refusal bars you from obtaining a limited driving privilege until 6 months after the refusal has taken effect. The one-year suspension for the refusal can run simultaneously with the suspension for the DWI conviction.
Will this affect my child custody?
The effect of a DWI charge on child custody can vary. While a DWI is serious offense, if a parent only has one DWI and no other legal trouble, the negative effect of the DWI will generally be more limited. When a decision regarding child custody is to be made, the moral fitness of the parents is considered and a DWI conviction will affect this factor. The further in the past the DWI occurred, the less weight a judge will most likely give it. Still, a DWI conviction can have serious ramifications in regards to physical custody of the child. While legal custody is the ability to make decisions regarding the welfare of the child, physical custody is time the parent actually spends with the child. It is possible that a DWI will affect the Court's decision in deciding physical custody issues.
How long will I lose my license for?
Immediately upon being charged with a DWI, if a refusal took place or the driver had a blood alcohol concentration of .08 or higher, a 30-day civil revocation is placed upon the license. On the 30th day from the date charged with a DWI, the driver can pay the civil revocation fee and re-acquire the plastic license. Upon conviction of a first DWI, a person's drivers license is suspended for 1 year, with the potential of obtaining a limited driving privilege as discussed above. If a person is convicted of multiple DWIs, the driving consequences are more severe. If convicted of 2 DWIs within 3 years of each other, a person's license will be suspended for a period 4 years with the opportunity to obtain a limited driving privilege in 2 years. If convicted of 3 or more DWIs, it is very likely that a person's driver's license will be suspended permanently, if the convictions occurred within the requisite time frame.
Do I have to tell my boss?
When charged with a DWI, a significant issue looming over most drivers' heads is the effect the DWI will have on current and future employment opportunities. Some people charged with a DWI feel very comfortable with their bosses and are inclined to alert their bosses of the DWI charge. Others could be very hesitant to discuss the charge with their boss. In determining whether a person is required to disclose a DWI charge to an employer, a key concern is if there is an employee manual that directs employees to tell their employer about impending criminal charges or convictions. If the person has an attorney, either appointed or retained, the lawyer is under an ethical obligation to not disclose any information to the employer, unless given informed consent to do so by the client.
How much will my insurance go up?
Another significant consequence of a DWI conviction is the corresponding price increase in auto insurance. It is quite possible that auto insurance policies can double or even triple in cost. It is imperative to shop around different insurance companies to find the best rate possible. In most states, people convicted of a DWI are required to obtain SR22 or "high risk" insurance. The SR22 form is sent by the insurance provider to the requisite state's DMV to signify that the driver does have auto insurance. North Carolina does not require that drivers obtain SR22 insurance. Even without the SR22 requirement, North Carolina drivers convicted of a DWI can expect dramatic increases in their insurance rates.
Will I be predisposed to be pulled over again if a police officer runs my tags?
Once convicted of a DWI, the conviction will remain on a persons DMV record. When an officer runs a tag, the driving record will alert the officer that the driver has been previously convicted of a DWI. This information alone however, is not sufficient for a traffic stop. To be pulled over, an officer must have reasonable suspicion to initiate a traffic stop. There must be more than a "hunch." The officer must have some objective reason to pull over a vehicle and the mere fact that a driver has been convicted of a DWI does not fall within this objective criteria. However, if an officer runs the tag of a driver convicted of a DWI and finds that the driver's license is revoked, the officer can then initiate a traffic stop. Regardless, officers who see people driving previously convicted of a DWI may be more alert and vigilant in regards to that driver, but still must obtain reasonable suspicion to pull a vehicle over, which in itself is a low standard.
Will it affect my credit?
A DWI conviction will not directly affect your credit. A DWI conviction can have significant financial ramifications as discussed above. Court costs can range between $600.00 to $1,000.00. A DWI conviction also carries with it at least a one year suspension of driving privileges, which can have a detrimental effect on employment for many drivers. Although the DWI itself will not show up on a credit report, the financial costs associated with a DWI can sneak into a credit report. For instance, if you are late paying court fees or lose your job because of a DWI conviction and can no longer afford some or all of your bills.
Will it affect my applications for college/post grad school?
Most, if not all, college and postgraduate applications will ask an applicant if he or she as been convicted of a criminal offense besides a traffic offense. When faced with this question, it is best to be completely honest and truthful with the admissions office. Disclose the DWI conviction, but explain, if applicable, that all court obligations have been completed. The college or grad school may contact you for additional information including the judgment and the police report. The key is to be honest and disclose everything.
It is always wise to contact a DWI lawyer with specific questions about your case.  Minick Law's DWI lawyers offer free consultations on most cases, and are standing by to help you resolve your DWI charges as quickly and painlessly as possible.  Contact us today to learn more about your DWI case.
Blake Marcus graduated from Michigan State University College of Law with honors. During law school, Blake completed an internship with the honorable Michelle M. Rick in the 29th Circuit Court of Michigan. His primary practice area is DWI defense. He has completed the NHTSA DWI Detection and Standardized Field Sobriety Testing Course.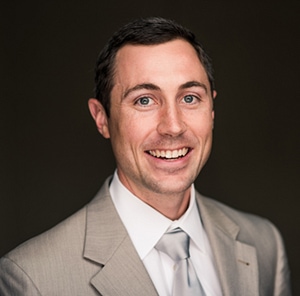 James Minick is founder and C.E.O. of Minick Law, P.C. James is committed to providing top notch legal services through his team of highly specialized legal professionals. James will defend your rights.