Schedule A Free Consultation
I Need A Lawyer For...
I Need A Lawyer In...
The testimonials and endorsements listed do not reflect all of the feedback the firm has received. Each case is unique and must be evaluated on its individual merits. Prior results do not guarantee a similar outcome.
How We Help
Reduce the Legal Consequences
Criminal charges can result in the loss your job, license, reputation, and even jail.  Know the legal consequences and then work hard to reduce, or erase, them.
Don't Face the Law Alone
Being charged with a DWI, criminal, or traffic offense and facing the law is intimidating and isolating. Work with a defense team that fights and cares for you.
Get Clarity with the Unknown
Getting charged with a criminal offense and trying to navigate the legal process is often disorienting and overwhelming. Get the answers you want and the plan you need to get your life back on track.
DUI Defense
Work with a DUI defense team.
At Minick Law, P.C., you don't just hire an attorney. You hire an aggressive defense team. Our Hickory DUI lawyers are ready to help you prepare your DUI case for the best possible outcome.
Being charged in Hickory, North Carolina with driving while impaired (DWI) or driving under the influence (DUI) can mean jail time and court fines, loss of driving privileges, increased insurance rates, employment consequences, and financial uncertainty. These issues are magnified by the fact that DUI law is one of the most complex areas of criminal law in the State of North Carolina.
We understand that receiving a DUI charge leaves you with a number of questions. That's why our Hickory DUI lawyers will guide you through the legal process every step of the way.
DUI Lawyers
Get aggressive defense from our DUI lawyers in Hickory, NC. 
Putting forth the best defense often requires looking at your case from the perspective of the Hickory DA. Our Hickory DUI lawyers leave no stone unturned in the search for evidence helpful to your defense.
Attorney Lance Williams is more than just a proficient lawyer and graduate of Charlotte School of Law; he also spent twelve years as Deputy Sheriff in Harvey, LA before he entered law school. His experience in law enforcement gives him a unique vantage point on the processes law enforcement officers use and the mistakes they are prone to make.
Our Hickory DUI lawyers are also required to attend the National Highway Traffic Safety Administration's (NHTSA) 24 hour DWI Detection and Standardized Field Sobriety Test (SFST) Course, the same training received by many officers that charge DWI in Hickory.
Our Approach
Have confidence in DUI defense that fights for you. 
At Minick Law, we help individuals charged with DWI by:
Developing a personalized Action Plan to prepare for all Court dates
Obtaining / reinstating driving privileges and driver's licenses
Advising clients on how to

 

navigate the numerous non-criminal consequences of DWI
Connecting our clients with valuable resources in the community, including: alcohol assessors, impatient substance abuse treatment, ignition interlock providers, counseling services, community services opportunities, and insurance providers.
Your Hickory DUI lawyer will personally meet with you from the very beginning of the attorney-client relationship. We believe that effective DUI representation cannot be accomplished without excellent communication.
At any time during or after your case, we can meet with you to discuss your DUI charge, and we will keep you apprised of all developments in your case, keeping you in the loop. Our office is conveniently located just south of Lenoir-Rhyne University.
Contact our Hickory Office
Minick Law, P.C. of Hickory
Address: 520 8th St NE, Hickory, NC 28601
Phone: (828) 237-4242 | Fax: (828) 212-4300
Cities We Serve: Hickory, Morganton, and Statesville.
Counties We Serve: Burke, Catawba, and Iredell.
Get the defense you need from a law firm that cares.
Learn More
The National Trial Lawyers association has named James one of its Top 100 Trial Lawyers for 2014-2015. He is a General Member of the National College for DUI Defense, and has successfully completed the National Highway Traffic Safety Administration's course on DUI Detection and Standardized Field Sobriety Testing, a 24 hour course taught to officers trained in DWI investigations. James and his beautiful wife, Laura, have 5 children and are proud foster parents. He concentrates his practice in:
DWI / DUI Defense
Hickory DWI News & Resources
DUI DWI

Courtroom Etiquette
What if the police didn't read my Miranda Rights during my DWI Arrest? Many people are shocked...
What To Wear To Court by Minick LawApr 26, 2017 Knowing what to wear to court, how to behave in...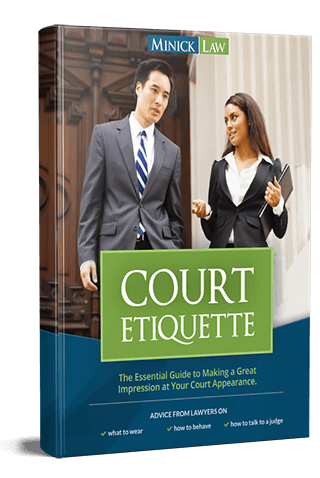 Download the Free Guide
Court Etiquette: The Essential Guide to Making a Great Impression at Your Court Appearance
Advice from lawyers on what to wear, how to behave, and how to talk to a judge.