Traffic Ticket Lawyers
Work with attorneys that fight for you and care about you.
Traffic Ticket Lawyer in Asheville, Charlotte, Gastonia, Waynesville, and Wilmington NC
Receiving a speeding ticket or traffic ticket happens. We understand.

When you're given a traffic ticket you aren't just facing fines, you could also receive points on your license which could make your insurance rates go way up.
We will not only do our best to minimize the consequences of the charge in court, but we will also at your driving record to see what you need to do to keep your driving record healthy. 
Speeding Ticket
It happens, you're jamming out to your favorite song or you get lost in conversation with a friend, and you stop paying attention to how far down you're pressing the gas pedal.
When you're given a speeding ticket you aren't just facing fines, you could also receive points on your license which could make your insurance rates go way up. Whether if you were going 15 mph over the speed limit or 30 mph over, contact us to make sure you get fair representation and your situation is handled correctly.
There are a number of ways a speeding ticket can be resolved:
Dismissal by the district attorney
Reduction of the charge to 9 mph over the speed limit or to improper equipment
Pleading guilty or responsible and requesting a Prayer for Judgment (PJC)
Pleading not guilty and taking the case to trial
Driving with a Revoked License
If you've been charged with driving with a revoked license, the consequences can continue to get worse and eventually could lead a permanent revocation of your driver's license or to jail time.
We will not only do our best to minimize the consequences of the charge in court but also look at your driving record to see what you need to do to get your license back. In our experience, prosecutors are hoping that individuals can have their driving privileges restored and will work with people to help this happen.
Make sure you get ahead of this by letting our team work on your case.
Reckless Driving
Many reckless driving charges are related to high speeding cases or to accidents.
A reckless driving charge is a serious charge that carries serious insurance consequences and can be a dark spot on an otherwise good driving record. Despite the seriousness of the charge, it is common for our attorneys to successfully request a reduction or dismissal of a reckless driving.
There may be things you can do before we speak with the district attorney such as obtaining documentation from your insurance company or attending a Driver Safety course that would help us in our negotiations with the prosecutor.
At Minick Law, we help individuals charged with Traffic Violations by:
We listen.
During our initial conversation with you we will get information about the circumstances of your charge and about your driving record or driving history.
We inform.
Once we have these details we can explain the potential court, license and insurance consequences you are facing.
We plan.
We will then create a detailed plan of action for your case to make sure that your traffic ticket is resolved in the appropriate manner. Our mission is to produce the best possible outcome on your traffic ticket.
wonderful experience
I had a wonderful experience with the staff at Minick Law, and was pleased with the work that James Minick himself did on my behalf. He not only worked before and during my case, but helped guide and assist me two years afterwards. He's a good man, but also highly intelligent and he knows how the legal system works.
Jessica Allison
top-notch!
Attorney Minick and his staff are professional, knowledgeable, courteous, and efficient. All questions were answered in a timely, respectful, and friendly manner. The firm's attorneys are devoted and their areas of expertise are far-ranging. This firm is top-notch!
William Riddle
knows how to get the job done!
This Law Firm really knows how to get the job done! What a wonderful and pleasant experience knowing and trusting that they would help me out in my time of need. All the attorney's here are very professional and easy to deal with. I highly recommend The Minick Law Firm for any of your needs. Thank you!
Patrick Cusack
best described as excellent
My experience with Minick Law can be best described as excellent. I received optimum results in my case with much attentiveness to my questions and concerns. From my attorney...to the office staff, I can only say thank you, and job well done!
Kelly Amundsen
exceeds the expectations of a law firm
Minick Law exceeds the expectations of a law firm and demonstrates many outstanding professional qualities. Of these qualities, three really stand out: high level expertise, honesty, and excellent communication. Thank you all for your superior work!
Eric Reitzel
highly recommend
The manner with which [Minick Law] handled our situation was very professional. They saw that all questions were answered and we were at ease with what would occur. I would highly recommend Minick Law Group to anyone needing their services.
Jill Varney
Knowing what to wear to court, how to behave in court, and how to talk to a judge are extremely important (yet often forgotten) elements in your court appearance. Making a great impression in the courtroom and putting your best foot forward to the judge and jury can...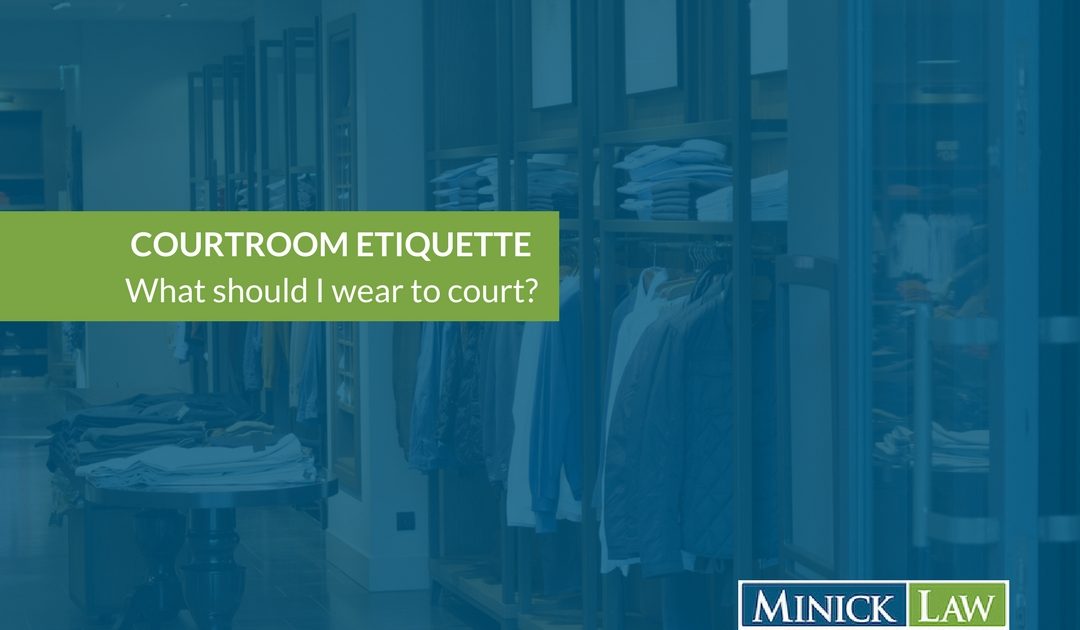 If you have not spent much time in a courtroom before your scheduled hearing, you may be wondering "What should I wear to court?" The answer, though not difficult, is important to get right, because to dress poorly can have unfortunate and unforeseen consequences...
The Police Made Me Do It When utilizing an entrapment defense the defendant must show that he committed a crime at the urging of a government official. North Carolina allows the defense of entrapment in the context of driving while impaired. State v....
Being convicted of a DWI brings with it a litany of consequences. However, for most people, the primary concern is their licensing privileges and the ability to drive. This becomes even more complicated when you are convicted of a DWI in South Carolina but...
Attacking a willful refusal, specifically a license revocation for willful refusal, requires careful review of several legal issues. Under N.C.G.S. 20-16.2(d) there are effectively three issues to be decided by a DMV Hearing Officer at a license revocation hearing...
How to Get a North Carolina Limited Driving Privilege if Your North Carolina Driver's License is Suspended by a DWI or DUI in Another State If you are a resident of North Carolina convicted of DWI or DUI in Federal Court or in another state, your North Carolina...
In almost all situations, getting convicted of a DWI is a serious and troubling event. However, a DWI conviction becomes far more serious if the person registered a high BAC (Blood Alcohol Concentration) on a breath or blood sample. As such, what happens if you...