RECKLESS DRIVING LAWYERS
Reckless Driving Lawyers
Our reckless driving lawyers fight and care for you. 
Reckless Driving
Our reckless driving lawyers will be with you every step of the way.
Many reckless driving charges are related to high speeding cases or to accidents.
A reckless driving charge is a serious charge that carries serious insurance consequences and can be a dark spot on an otherwise good driving record.
Despite the seriousness of the charge, it is common for our attorneys to successfully request a reduction or dismissal of a reckless driving.
There may be things you can do before we speak with the district attorney such as obtaining documentation from your insurance company or attending a Driver Safety course that would help us in our negotiations with the prosecutor.
Our Approach
We listen.
During our initial conversation with you we will get information about the circumstances of your charge and about your driving record or driving history.
We inform.
Once we have these details we can explain the potential court, license and insurance consequences you are facing.
We plan.
We will then create a detailed plan of action for your case to make sure that your traffic ticket is resolved in the appropriate manner. Our mission is to produce the best possible outcome on your traffic ticket.
1,000+ Cases We've Handled
truly cares about his clients
Mr. Minick is an excellent DWI attorney who analyzes every aspect of the law to help fight your case. He truly cares about his clients and is prompt in his communication. If you have been charged with DWI, hire Mr. Minick--he's the best around.
Josh Valentine
highly recommend this law firm
I spoke with Mr. James K. Minick with regards to helping me get my driver's license reinstated. He was very respectful, upfront and honest with me. He basically saved me $2K or possibly more by being honest. Most attorneys would have their hand out wanting money and giving false hope. I truly appreciate Mr. Minick. I would highly recommend this law firm for any service that they offer.
Greg Grindstaff
always available...very organized
Strongly Recommend Attorney Minick & Minick law! He was an incredible asset during a very stressful time (DUI). Minick was always available to answer questions and very organized so I was in the know every step of the way. I can't speak highly enough of his representation and encourage anyone facing a DUI or otherwise to give Minick Law a call, you won't regret it (even if you regret whatever may be bringing you to his office!).
James Easter
wonderful experience
I had a wonderful experience with the staff at Minick Law, and was pleased with the work that James Minick himself did on my behalf. He not only worked before and during my case, but helped guide and assist me two years afterwards. He's a good man, but also highly intelligent and he knows how the legal system works.
Jessica Allison
top-notch!
Attorney Minick and his staff are professional, knowledgeable, courteous, and efficient. All questions were answered in a timely, respectful, and friendly manner. The firm's attorneys are devoted and their areas of expertise are far-ranging. This firm is top-notch!
William Riddle
knows how to get the job done!
This Law Firm really knows how to get the job done! What a wonderful and pleasant experience knowing and trusting that they would help me out in my time of need. All the attorney's here are very professional and easy to deal with. I highly recommend The Minick Law Firm for any of your needs. Thank you!
Patrick Cusack
best described as excellent
My experience with Minick Law can be best described as excellent. I received optimum results in my case with much attentiveness to my questions and concerns. From my attorney...to the office staff, I can only say thank you, and job well done!
Kelly Amundsen
exceeds the expectations of a law firm
Minick Law exceeds the expectations of a law firm and demonstrates many outstanding professional qualities. Of these qualities, three really stand out: high level expertise, honesty, and excellent communication. Thank you all for your superior work!
Eric Reitzel
highly recommend
The manner with which [Minick Law] handled our situation was very professional. They saw that all questions were answered and we were at ease with what would occur. I would highly recommend Minick Law Group to anyone needing their services.
Jill Varney
Traffic Violations Resources
Tips & Resources from our NC Traffic Lawyers
Criminal Law

Courtroom Etiquette
Under the 4th Amendment, the Constitution states that an individual is to be free from...
What To Wear To Court by Minick LawApr 26, 2017 Knowing what to wear to court, how to behave in...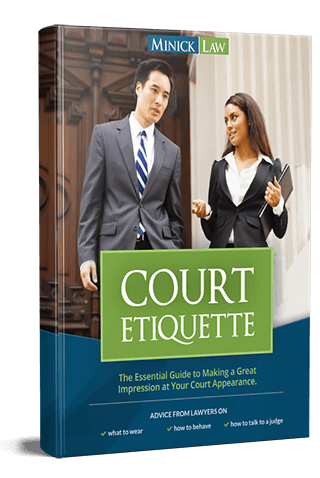 Download the Free Guide
Court Etiquette: The Essential Guide to Making a Great Impression at Your Court Appearance
Advice from lawyers on what to wear, how to behave, and how to talk to a judge.