Schedule A Free Consultation
I Need A Lawyer For...
I Need A Lawyer In...
The testimonials and endorsements listed do not reflect all of the feedback the firm has received. Each case is unique and must be evaluated on its individual merits. Prior results do not guarantee a similar outcome.
How We Help
Reduce the Legal Consequences
Criminal charges can result in the loss your job, license, reputation, and even jail.  Know the legal consequences and then work hard to reduce, or erase, them.
Don't Face the Law Alone
Being charged with a DWI, criminal, or traffic offense and facing the law is intimidating and isolating. Work with a defense team that fights and cares for you.
Get Clarity with the Unknown
Getting charged with a criminal offense and trying to navigate the legal process is often disorienting and overwhelming. Get the answers you want and the plan you need to get your life back on track.
DUI Defense Is What We Do
Being charged with a DUI can be the low point of your life. At Minick Law, P.C., our Asheville DUI lawyers embrace a simple mission: we want to help.
DUI charges will usually leave you feeling uncertain, anxious and overwhelmed. It is hard to determine what the future may bring in the case and in your life after court.
Minick Law, P.C. will strive to listen and understand your situation while keeping you well-informed of developments in your case.
Our DUI Defense team will explain the legal process in clear terms, and guide you through your case, every step of the way.
Asheville, NC DUI Lawyers
Minick Law, P.C. of Asheville delivers aggressive, yet compassionate,
DWI Defense
.
Our office
 is conveniently located in downtown Asheville, not far from 
the Thomas Wolfe Memorial
. We have staff members standing by ready to assist you with your case. Our Asheville DUI lawyers are proud to serve the citizens of Asheville and provide legal assistance through the their trying times with our aggressive DWI defense and our client focused service.
Attorney James Minick
 is known as the "Asheville DWI Guy" and is the co-author of the book 
A Cup of Coffee with 10 of the Top DUI Attorneys in the United States
. James was named by the National Trial Lawyers Association as one of their 
Top 100 Trial Lawyers
 for 2014-2015 and is a General Member of the National College for DUI Defense.
Attorney Blake Marcus
 graduated with honors from Michigan State University College of Law and was an intern during law school for the honorable Michelle M. Rick in the 29th Circuit Court of Michigan. Both of our Asheville DWI lawyers have passed and complete the 
National Highway Traffic Safety Administration's course
 regarding DUI Detection and Standardized Field Sobriety Testing. Minick Law, P.C. is here to help!
DWI Defense That Cares and Fights For You
Getting a DWI (driving while impaired) or a DUI (driving under the influence) can lead to jail time, court fines, license suspensions, high insurance rates, and much more. In North Carolina, DWI/DUI law is one of the most complex areas of criminal law. Our Asheville DWI lawyers handle 
Habitual DWI cases
, Felony Driving While Impaired, 
Federal Driving Under Influence
 (DUI charged on Federal lands or parkway), and Drug Related Impaired Driving cases (including marijuana DWI charges). At Minick Law, P.C., we give our clients the opportunity to have attorney who will not only fight for you in court but who also care about you and your well being. We will work with you to make sure we get all of the facts and create an action plan to get the best possible results on your case.
Contact Our Asheville Office
DWI Lawyers of Asheville
Address: 30 Orchard St Asheville, NC 28801
Phone: (828) 333-5024 | Fax: (828) 212-4300
Cities We Serve: Asheville, Marion, and Mars Hill.
Counties We Serve: Buncombe, Madison, and McDowell.
Get the defense you need from a law firm that cares.
Learn More
The National Trial Lawyers association has named James one of its Top 100 Trial Lawyers for 2014-2015. He is a General Member of the National College for DUI Defense, and has successfully completed the National Highway Traffic Safety Administration's course on DUI Detection and Standardized Field Sobriety Testing, a 24 hour course taught to officers trained in DWI investigations. James and his beautiful wife, Laura, have 5 children and are proud foster parents. He concentrates his practice in:
DWI / DUI Defense
Asheville DWI News & Resources
DUI DWI

Courtroom Etiquette
What if the police didn't read my Miranda Rights during my DWI Arrest? Many people are shocked...
What To Wear To Court by Minick LawApr 26, 2017 Knowing what to wear to court, how to behave in...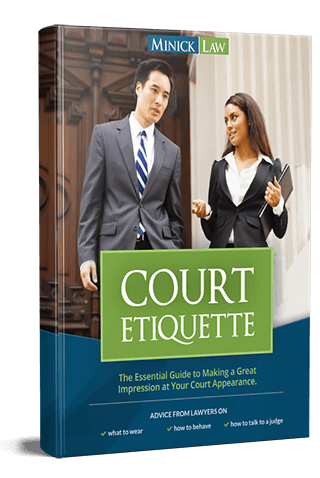 Download the Free Guide
Court Etiquette: The Essential Guide to Making a Great Impression at Your Court Appearance
Advice from lawyers on what to wear, how to behave, and how to talk to a judge.