FEDERAL DUI LAWYERS
Get your life back on track with our DUI defense team
Our Federal DUI attorneys fight and care for you. 
How We Help
Get an action plan for you. 
Getting the best result on your DWI means having the best information when making important decisions. We work together with you to create a detailed DWI Action Plan for your case. This will show you exactly what you need to do and explain how we plan to proceed as your attorney.
Get your license back.
If your license has been revoked, you don't want to lose it for longer. The attorneys at Minick Law want to learn about the details of your case and the impact the DWI is having on your life. This way, we can provide sound legal advice on your next steps to get you back on the road in no time.
Get the best result for your case.
Don't let one mistake leave you with lasting legal consequences, such as jail time, a bad record, or job loss. Our DWI defense lawyers will let you know the consequences you're facing and help you achieve the best possible outcome.
Federal DUI Defense
Our Federal DUI Lawyers Are Here To Help
If you have been charged with impaired driving that occurred in a National Park in North Carolina, such as the Blue Ridge Parkway or the Great Smokey Mountains National Park or on federally owned land such as a military base, you are facing a Federal DUI charge.
A Federal DUI on National Park property is different than a DUI charged in North Carolina State Court. A federal DUI is typically charged by a National Parks Service Ranger (Park Ranger), but local law enforcement may be involved as well. The Park Ranger may also utilize county facilities for breath testing or other aspects of the DUI investigation.
A DUI occurring on a military base, such as Camp Lejeune or Fort Bragg, would also likely be prosecuted through the federal court system. Military police may be involved, but may be assisted by local law enforcement.
It is important to hire an attorney that is experienced in dealing with Federal DUI charges. At Minick Law, we will explain the implications of getting a Federal DUI and the options available for handling your case.  Contact Us for a free consultation to learn how Minick Law can help you with your charges.
DUI on National Park Service Land
Driving Under the Influence On National Park Service Land
If you are charged with a Federal DUI on the Blue Ridge Parkway or the Great Smokey Mountains National Park, the Government must prove either:
You are under the influence of alcohol, drugs, or any combination thereof to render the operator incapable of safe operation; OR
Your alcohol concentration is 0.08 grams or more of alcohol per 100 milliliters of blood, or 0.08 grams or more of alcohol per 210 liters of breath.
A Federal DUI is a Class B misdemeanor and can be sentenced to up to six months in Federal custody, a fine of up to $5,000, and supervised probation of up to five years.
A person charged with Federal DUI may be asked to undergo a breath test to determine his BAC level. If the driver refuses to give a breath sample, the officer may attempt to get a blood sample. Refusing to undergo a chemical test is grounds for another separate Federal criminal offense.
Administratively a Federal DUI is processed through the Central Violations Bureau (CVB), and this agency is typically responsible for scheduling court dates related to federal notices (or citations) resulting from traffic offenses occurring on federal property. Don't be alarmed if you are not given a court date at the time you are issued a citation. Sometimes it can take several weeks for the CVB to send notice to you by mail of your court date. CVB Court for citations occurring on the Blue Ridge Parkway or Great Smokey Mountains National Park is normally held at the Federal Courthouse in Asheville. The judge presiding over CVB Court is typically a United States Magistrate Judge.
Trials for DUIs on National Park Service land are typically heard before a United States Magistrate Judge and the person charged does not have the right to a jury trial. A Federal DUI also does not have probation available before judgment, so if you are found guilty, it will immediately result in a conviction. Convictions do have an appeals process, but an appeal does not grant a new trial.
DUI on Federally Owned Land
DUI On Federally Owned Land
If you are charged with a DWI while on any other Federal land (military bases, government buildings, airports, post offices, etc.), you will be prosecuted under the laws of the state that you are in under the Assimilative Crimes Act.
A soldier on active duty might be charged and prosecuted under the Uniform Code of Military Justice. If you are a civilian charged on a military base then you will likely be charged under a combination of state and federal laws.
If arrested on a military base for DUI, you could be asked to undergo a chemical test. Under the Implied Consent Law, you will be asked to provide a blood, urine, or breath alcohol test. If you refuse, you will lose driving privileges on Federal land for up to one year and the DMV will be informed of your refusal and will suspend your license in the same way as a DWI under state law.
"The only one that made me feel important... the only one that made me feel like I was doing the right thing."
Watch the video and listen to Aileen Pearlman share her experience with Minick Law.
The testimonials and endorsements listed do not reflect all of the feedback the firm has received. Each case is unique and must be evaluated on its individual merits. Prior results do not guarantee a similar outcome.
DWI Resources
Tips & Resources from our NC DWI Lawyers
DUI DWI

Courtroom Etiquette
What if the police didn't read my Miranda Rights during my DWI Arrest? Many people are shocked...
What To Wear To Court by Minick LawApr 26, 2017 Knowing what to wear to court, how to behave in...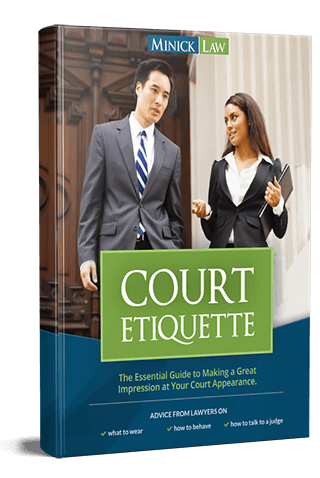 Download the Free Guide
Court Etiquette: The Essential Guide to Making a Great Impression at Your Court Appearance
Advice from lawyers on what to wear, how to behave, and how to talk to a judge.