Schedule A Free Consultation
I Need A Lawyer For...
I Need A Lawyer In...
The testimonials and endorsements listed do not reflect all of the feedback the firm has received. Each case is unique and must be evaluated on its individual merits. Prior results do not guarantee a similar outcome.
How We Help
Reduce the Legal Consequences
Criminal charges can result in the loss your job, license, reputation, and even jail.  Know the legal consequences and then work hard to reduce, or erase, them.
Don't Face the Law Alone
Being charged with a DWI, criminal, or traffic offense and facing the law is intimidating and isolating. Work with a defense team that fights and cares for you.
Get Clarity with the Unknown
Getting charged with a criminal offense and trying to navigate the legal process is often disorienting and overwhelming. Get the answers you want and the plan you need to get your life back on track.
DUI Defense
Get aggressive DUI defense. 
Being charged with criminal offenses can cause anxiety, stress, and embarrassment. We understand that, and we want to help you in this time of need. Our Waynesville DUI Lawyers will provide you both the expertise and the legal support needed for your defense.
Our DUI Defense Team will explain the legal process in clear terms, and guide you through your case, every step of the way. We know the uncertainty can be overwhelming at times. Our Waynesville DUI lawyers will help you clearly understand the legal process you are going through.
DUI Lawyers
DUI Lawyers Waynesville, NC
Getting a DWI (driving while impaired) or a DUI (driving under the influence) can end in court fines, driving suspensions, and even time in prison.
At Minick Law, P.C. of Waynesville, we care about our clients both inside and outside of the courtroom. We will assemble the facts to create an orderly action plan that consists of steps to get your the best results for your DWI case.
Our Waynesville DUI lawyers handle Habitual DWI cases, Felony Driving While Impaired, Federal Driving Under Influence(DUI charged on Federal lands or parkway), Cherokee Tribal Court DWI, and Drug Related Impaired Driving cases (including marijuana DWI charges).
Our Approach
Local DUI lawyers that fight for you.
Our Waynesville DUI lawyers deliver aggressive and experienced DUI defense. Minick Law, P.C. of Waynesville is conveniently located in downtown Waynesville, directly across from the Haywood County Courthouse, next to Well's Funeral Home.
Nestled in the Great Smoky Mountains, Waynesville, NC offers a host of fine restaurants and shops, museums and art galleries, and plenty of outdoor attractions that draw tourists from around the region. Minick Law, P.C. of Waynesville serves all of Haywood County and the 30th district.
Contact our Waynesville Office
Minick Law, P.C. of Waynesville
Address: 160 N Main St Ste 11, Waynesville, NC 28786
Phone: (828) 333-5035 | Fax: (828) 212-4300
Cities We Serve: Bryson City, Franklin, Sylva, and Waynesville.
Counties We Serve: Haywood, Jackson, Macon, and Swain.
Get the defense you need from a law firm that cares.
Learn More
In law school Amy was an Honor Court Justice, a Peer Mentor and a Teaching Scholar.
During law school she interned at Pisgah Legal Services, the Public Defender's Office District 29B, and for the head family district court Judge in Raleigh. Before going to law school she taught English in Spain for a year.
She graduated from the University of North Carolina at Asheville with a degree in Mass Communication. She is originally from Waynesville, NC.
Waynesville DWI News & Resources
DUI DWI

Courtroom Etiquette
What if the police didn't read my Miranda Rights during my DWI Arrest? Many people are shocked...
What To Wear To Court by Minick LawApr 26, 2017 Knowing what to wear to court, how to behave in...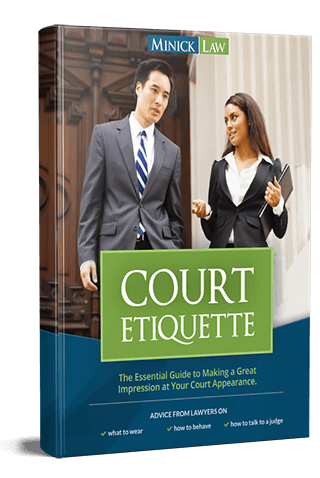 Download the Free Guide
Court Etiquette: The Essential Guide to Making a Great Impression at Your Court Appearance
Advice from lawyers on what to wear, how to behave, and how to talk to a judge.