Get the defense you need from a law firm that cares.
Learn More
He has completed the UNC School of Government's Misdemeanor Defender Training, Felony Defender Training, and Trial School. He has also completed the NHTSA's Standardized Field Sobriety Test Certification (SFST), Advanced Road Impaired Driving Enforcement (ARIDE), DRE (Drug Recognition Expert).
Durham DWI News & Resources
Durham Posts

Courtroom Etiquette
What happens during booking in Durham, NC? Minick Law, P.C. takes a look at the general booking process to let you know what to expect.
Are you wondering what to wear to your DUI court hearing in Durham, NC? Minick Law provides good guidelines for both men and women.
Find Our Durham Office Around the Web!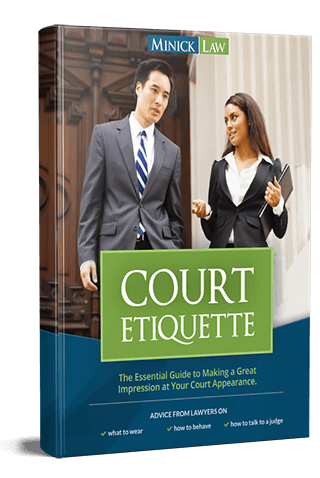 Download the Free Guide
Court Etiquette: The Essential Guide to Making a Great Impression at Your Court Appearance
Advice from lawyers on what to wear, how to behave, and how to talk to a judge.