FAQs for Concord DUI Lawyers
How Are You Different From Other Concord DUI Lawyers?
When you hire Minick Law, you get a team of attorneys to handle your case.
Two heads are better than one, and we take that seriously when preparing for your case.
Our attorneys are extremely knowledgeable and focus almost entirely on DWI cases.
While most lawyers are required to take 12 hours of continuing legal education (CLE) per year, some of our attorneys take 20+ hours per year.
At our Concord office, Kristen Dewar works tirelessly on every DUI case she handles.
She cares deeply about defending her clients' rights and spends a ton of time getting to know them.
As a member of the NCAJ (North Carolina Advocates for Justice) Kristen works passionately to protect people, prevent injustice, and promote fairness.
Will I Go to Jail if I am Convicted of a DWI in North Carolina?
While jail time is a possibility for any person convicted of a DWI, the realistic likelihood of jail time depends on a whole number of different factors.
The vast majority of people charged with their first DWI are not sentenced to do any active jail time.
Jail time is more likely for a person with prior DWI's, a child in the car, an accident which causes injury to another person or driving on a license which is suspended for a DWI.
Will I be Allowed to Drive after Getting a DWI?
There are many driving consequences that can arise from a DWI.
The length of suspensions related to DWI and the requirements for license reinstatement vary greatly depending on a number of factors, including: prior DWI charges, the blood/breath alcohol concentration (BAC) at the time of the DWI charge, and whether the driver's license was suspended at the time of the charge.
For a first offense DWI case in North Carolina, a person's license will be suspended for one year.
Most people convicted of their first offense will be able to get a limited driving privilege that will allow them to drive for work, educational, treatment, and religious purposes.
How Much Money Will Getting a DWI Cost Me?
The financial consequences of a DWI are significant and can include: attorney's fees, court costs and fines, increases in auto insurance premiums, the cost of obtaining an alcohol assessment and completing any recommended treatment, continuous alcohol monitoring, inpatient treatment, and impact on employment.
Should I have been read my Miranda Rights during my DWI Arrest?
In North Carolina, officers frequently do not read Miranda rights at the time of a DWI arrest and often a suspect is never advised of Miranda rights during the entire encounter with police.
In the context of a DWI arrest, the lack of Miranda warnings is not likely to result in a dismissal of charges.
Most of the time statements made by a DWI suspect after arrest are not particularly important in the State's prosecution.
The suspect's statements and field sobriety tests prior to arrest combined with a blood or breath alcohol result may be enough for the State to proceed to trial on a DWI charge.
Get the defense you need from a Concord DUI Lawyer that cares.
Kristen Dewar
Associate Attorney
Born and raised in Toronto, Ontario, Canada, Kristen was told by teachers at a young age that she had a "strong sense of justice."
She graduated from the University of Toronto (B.A., Political Science, 2008), and continued her previous career in retail management and human resources until Kristen also decided to make good on what she had always been told, and went to Charlotte School of Law.
Learn More
At the Charlotte School of Law, Kristen was on the Dean's List, was a member of Order of the Crown, and interned at, among others:
Public Defender's Office, 6th Judicial Circuit, South Carolina
Trial Court Administrator's Office, 26th Judicial District, North Carolina
Charlotte School of Law's Criminal Justice Clinic
Kristen graduated from Charlotte School of Law, cum laude, with a Juris Doctor and a Certificate in Art of Advocacy Skills in 2015, and has been licensed to practice law in North Carolina since 2015.
Kristen is a member of the Cabarrus County Bar, the Mecklenburg County Criminal Defense Lawyers Association, the National Association of Criminal Defense Lawyers, the immediate past chair of the North Carolina Advocates for Justice's Criminal Defense Section, and currently serves on NCAJ's Board of Governors.
Kristen's practice areas include criminal defense, traffic/DWI, expungements, landlord/tenant, and general civil litigation.
Concord DWI News & Resources
DUI DWI

Courtroom Etiquette
If you have been charged with a DWI, there are probably a million questions and worries that are running through your mind. However, probably the most important question you have is, "how much is this going to cost me?" While...
Are you wondering what to wear to your DUI court hearing in Durham, NC? Minick Law provides good guidelines for both men and women.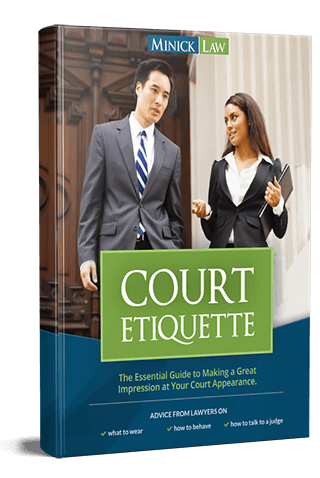 Download the Free Guide
Court Etiquette: The Essential Guide to Making a Great Impression at Your Court Appearance
Advice from lawyers on what to wear, how to behave, and how to talk to a judge.