HABITUAL DUI LAWYERS
Get your life back on track with our DUI defense team
Our Habitual DUI attorneys fight and care for you. 
How We Help
Get an action plan for you. 
Getting the best result on your DWI means having the best information when making important decisions. We work together with you to create a detailed DWI Action Plan for your case. This will show you exactly what you need to do and explain how we plan to proceed as your attorney.
Get your license back.
If your license has been revoked, you don't want to lose it for longer. The attorneys at Minick Law want to learn about the details of your case and the impact the DWI is having on your life. This way, we can provide sound legal advice on your next steps to get you back on the road in no time.
Get the best result for your case.
Don't let one mistake leave you with lasting legal consequences, such as jail time, a bad record, or job loss. Our DWI defense lawyers will let you know the consequences you're facing and help you achieve the best possible outcome.
Habitual DWI Defense
Our Habitual DWI Lawyers Are Here To Help
In North Carolina, a DWI is typically charged as a misdemeanor. However, if a person is charged with DWI and has been convicted of 3 prior DWI offenses within 10 years of the new date of offense, the State may charge the driver with Habitual Driving While Impaired.
When the State brings a habitual DWI charge, getting a legal team experienced in DWI law on your side becomes all the more important. 
A Habitual DWI is punishable as a Class F Felony, and has a 12 month minimum sentence and 59 month maximum sentence. Because a habitual DWI charge is a felony, the case must typically be indicted by a grand jury in the county of the offense and then proceed through the legal process in Superior Court (most misdemeanor DWI cases are handled at the district court).
A person convicted of Habitual DWI will also have his driver's license permanently revoked by the North Carolina Division of Motor Vehicles (NC DMV).
At Minick Law, P.C., we realize the chaos that a possible felony conviction and lengthy jail sentence can have in your life. Our first goal is to answer the many questions about how to handle the habitual DWI charge and how this charge will impact your life.
Our Approach
Aggressive Habitual DWI Defense
We concentrate our criminal defense practice in DWI representation. Our legal team has handled hundreds of DWI cases. Our attorneys spend a significant amount of time researching, writing about, and studying the laws in North Carolina related to Driving While Impaired.
Putting forth the best defense often requires looking at your case from the State's perspective. Our North Carolina DWI attorneys are also required to attend the National Highway Traffic Safety Administration's (NHTSA) 24 hour DUI Detection and Standardized Field Sobriety Test (SFST) Course, the same training received by many officers that charge DWI in North Carolina.
Solving The Problem
Our Habitual DWI Process
Many of our clients facing a habitual DWI in North Carolina are battling alcoholism or other addictions. Our fight for you does not begin and end in the courtroom.
Our goal is to help you get the support you need to make sure the terrible situation you are facing does not happen again. Addiction is a serious illness and we want to provide you with resources that help to address this issue so that you can change your life for the better. Your struggles are not simply legal and we take a wholistic approach to your case.
We will sit down with you and come up with a game plan that will put us in the best possible position to face any criminal sentence that might result from a conviction for habitual DWI. We want our clients to be engaged in preparing for worst case scenario so that we can work toward the best possible outcome.
Proving Habitual DWI
Elements of Habitual DWI in North Carolina
In order to prove habitual impaired driving, the district attorney must show:
The defendant was driving;
A vehicle;
On a public highway;
While impaired; AND
Has at least three prior convictions of impaired driving within the 10 years prior to the date of offense of the current impaired driving charge.
N.C.G.S. § 138.5. Proving Habitual DWI simply requires the additional component of there prior convictions within 10 years. The prior convictions need not be in North Carolina. The DA may be able to use convictions from other States or the Federal court system.
"The only one that made me feel important... the only one that made me feel like I was doing the right thing."
Watch the video and listen to Aileen Pearlman share her experience with Minick Law.
The testimonials and endorsements listed do not reflect all of the feedback the firm has received. Each case is unique and must be evaluated on its individual merits. Prior results do not guarantee a similar outcome.
DWI Resources
Tips & Resources from our NC DWI Lawyers
DUI DWI

Courtroom Etiquette
What if the police didn't read my Miranda Rights during my DWI Arrest? Many people are shocked...
What To Wear To Court by Minick LawApr 26, 2017 Knowing what to wear to court, how to behave in...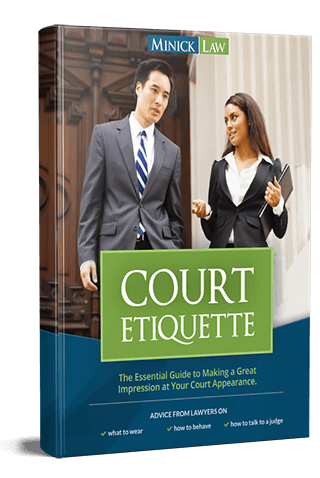 Download the Free Guide
Court Etiquette: The Essential Guide to Making a Great Impression at Your Court Appearance
Advice from lawyers on what to wear, how to behave, and how to talk to a judge.